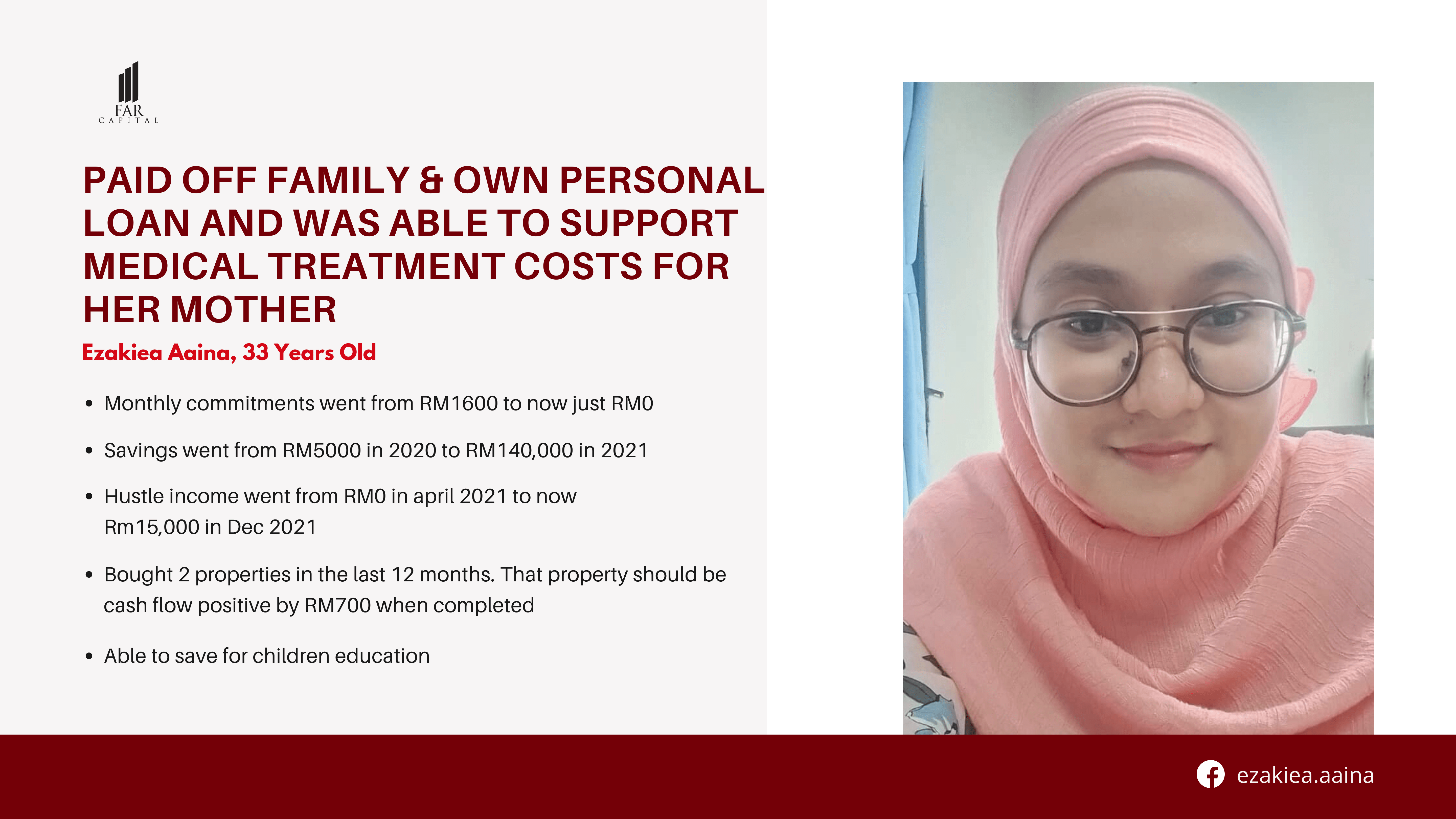 HUGE RESPONSBILITIES TO MY FAMILY 
I have a long list of how Far Capital transformed my life. I am a doctor that worked in a government hospital. Like many other families in Malaysia, my family and I had several monetary issues. For example, my mother needed medical treatments that could be costly. My sister was struggling to pay her four figured credit card debt. I had a five-figure personal loan, not forgetting a car loan. I had enormous responsibilities as a daughter, sister, wife, and mother. 
FAR CAPITAL ENABLED ME TO ACCOMPLISH SO MANY THINGS
Till this day, I am thankful that I joined Far Capital. Far Capital guided me to manage my money and increase my income. I also learned to invest in properties. Far Capital, led by Faizul Ridzuan, a property guru, had a great network within the industry, so once you become a client, you will receive fantastic deals on properties. 
Here is a list of things I achieved:
1.    I grew my active income from RM 6500 to RM 7500
2.    I boosted my savings to RM 140,000
3.    I earned RM 15,000 through hustle income in 2021.
4.    I settled my younger sister four-figured credit card loan 
5.    I paid off my mother's medical expenses and helped my babysitter's mother settle her medical fees. 
6.    I completed the payment for my personal and car loan. 
7.    I purchased two properties without any capital. Now, the properties net worth are RM 1.3 million in total. 
8.    I have savings for my children's education.
I am now the official property investment coach for my family. This is a huge accomplishment because I knew very little about it before. Far Capital enables me to be an empowering and intelligent woman, while looking pretty 🤣.
Find out how you can help your family lead a quality life!
Fill in this form and make your first step.