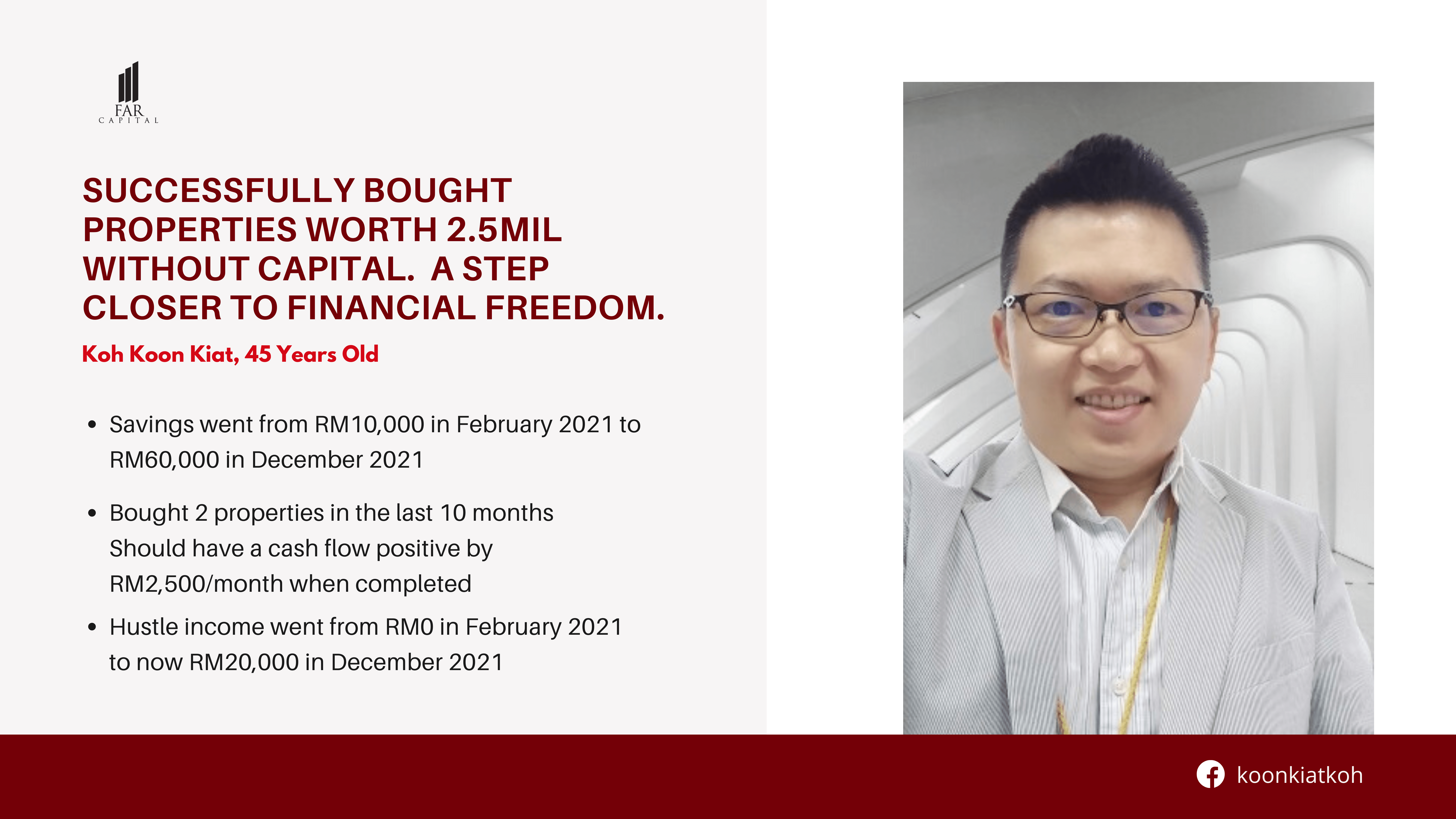 LOST A LOT BECAUSE OF BAD INVESTMENTS
I'm a full-time employee working as HOD in a global ICT services provider. I made a mistake with my first real estate investment with a guaranteed rental return (GRR) 20 years ago. In fact, I stumbled upon a few bad investment experiences that lost a significant sum of my hard-earned salaried income within the first ten years of my employment.
I realized the only investment that works for me is my own stay terrace house, which values increased after two years.
TEN RENTAL PROPERTIES BUT NO PROFITS
Since then, I have accumulated more than ten units of rental properties, including landed & high rise. I bought from both primary and sub-sale markets. I tried to maximize my ROI via multiple rental strategies, including fully furnished unit rental, room rental, short-term rental (Airbnb homestay), sublet (rent-on-rent), and recently owned an investment holding company. However, I'm still stuck with LTV70, and I have less time for my family due to my busy schedule. I've attended several online and offline seminars/courses from various property gurus in the market, spending education fees > RM 50k.
FAR CAPITAL SOUNDED TOO GOOD TO BE TRUE UNTIL..
It's in early 2021 that changed everything. I became a Far Capital client after I attended three sessions of CIS. It sounded too good to be true for me initially.
END TO END ECOSYSTEM, HASSLE-FREE PROGRAM
Eventually, I see the core values of the Far Capital end-to-end ecosystem. Thanks to Far Capital, I successfully bought a Grade A residential property via Far Cap without capital in just four months despite the LTV70 limitation. Currently, I'm getting my second project unit via Far Capital in less than a year. I can outsource my real estate & tenant's management via co-living for all subsequent purchases. This hassle-free leverage allows me to save time & effort in primary market research for what to buy next.
To be successful in real estate investment, I am utilising the proper financial knowledge, platform, mentor, and network Far Capital provided. I am now willing to take massive actions with calculated risk.
I DONT WORRY MUCH ABOUT MONEY ANYMORE
These achievements and experiences give me the confidence that I can achieve my financial goal within the next five years; I'll have the time to spend with my family, go on vacations, and live the dream life responsibly and comfortably, without worrying much about money.
Dare to be a multi-million employee and live a meaningful life. I may not retire early as I choose to work, not because I have to work!
Learn how you can change your life with Far Capital like K.K Koh.
Please leave your details below.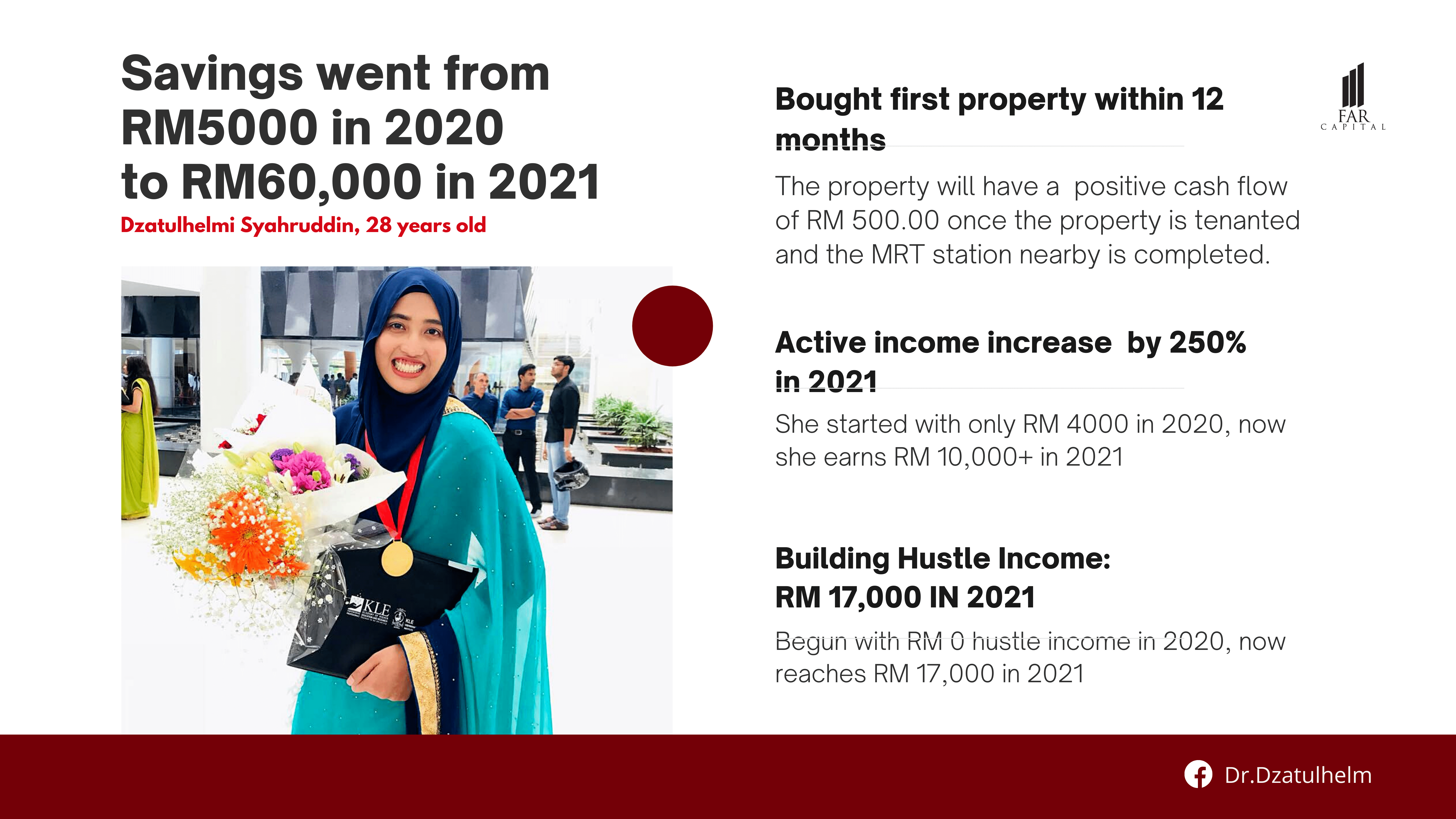 WORRY ABOUT TAKING CARE OF MY FAMILY
My father had a stroke in 2019, and he was physically unable to work. My mother had to end her small restaurant business to look after my father.  They had no choice but to rely on me only. I was a contract-appointed dentist serving in a government hospital. The salary was not enough for us all.  I worked multiple jobs back then; I was doing locum and tutoring. 
MY SALARY WAS LOW SO I WAS NOT QUALIFIED TO INVEST IN PROPERTY
After joining Far Capital, I was so excited to buy a property at that time, with a mindset to have my passive income asap. Still, because of my salary, my loan eligibility was low, and I was not qualified to buy any properties. 
I did not give up there, I listened to ALL webinars held every week, and Faizul Ridzuan, the Ceo of Far Capital kept advising about building my hustle income. So I set my mind, I must hustle till I can buy a property.
FAR CAPITAL IS A GET-RICH-SCHEME, BUT THEIR GUIDANCE WILL HELP YOU
 I worked seven days a week, 8 am till 9 pm almost every day, to increase my income to increase my LE. After months of hard work, a private clinic offered me to become one of his associates. I accepted this and believed this opportunity resulted from pursuing Faizul's guidance and motivational words. 
NOW MY PARENTS CAN HAVE ANYTHING THEY WANT
Now I'm the sole financial supporter of my parents. Now I can easily say this one sentence that can make my mother smile when we groceries shopping.
" Ummi amik je apa ummi nak tak perlu tengok harga pon "
Learn how you can lessen your financial burden. 
Please leave your details below.