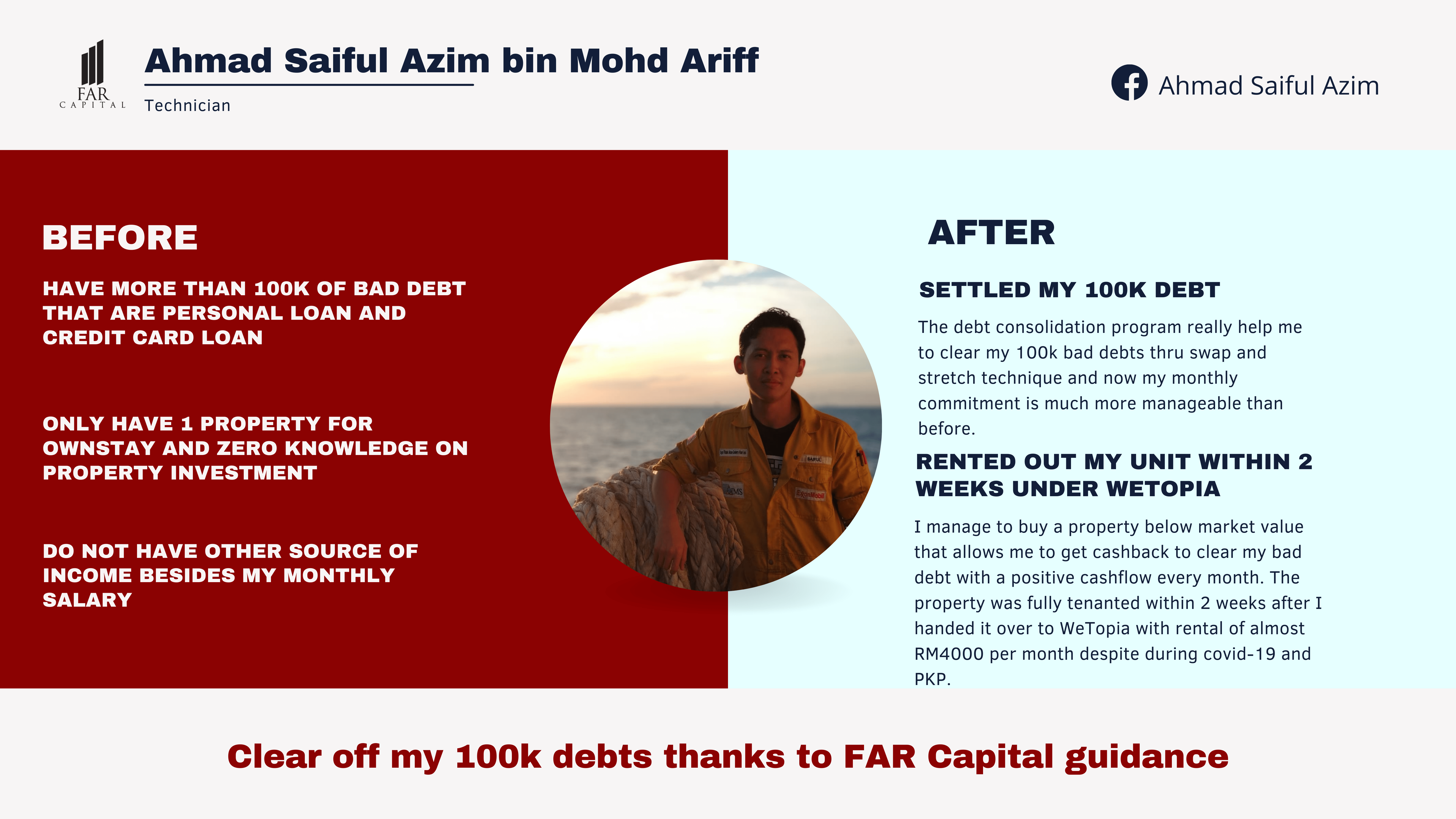 FEAR OF LOSING FINANCIAL SECURITY
I am in an Oil & Gas company affected by the pandemic, and I feel very insecure about my job; at the same time, I have a 100K debt.  I know I need to secure my financial ground; if I lose my job, everything will fall with me as my wife is a housewife.
I ALWAYS HAD BEEN LOOKING UP TO FAIZUL RIDZUAN'S METHOD
I had known FR since 2013 when I bought his book WTF, but at that time, I didn't know how to apply it in real life. But in 2020, I came across this ad that says how we can buy a property with no modal. Then I immediately joined the free webinar and signed up as a client afterwards. FAR Cap boosted my confidence to start investing in property.
FAR CAPITAL AND WETOPIA PROVIDED ME A LEVERAGE
FAR Capital is leverage for me. With the debt consolidation program, I have settled my 100K debt thanks to FAR Cap's knowledge in handling my debt.
Wetopia solves my problem in managing tenants as my nature of work does not enable me to monitor my units. It also offers one of the lowest management fees in comparison to other management companies. I also love the ecosystem in WeTopia as it is an end-to-end system that is integrated with FAR Capital. This has made my experience seamless, and WeTopia has its own USP(unit selling proposition) that makes it stand out more than most competitors.
THEY FOUND A TENANT FOR MY PROPERTY IMMEDIATELY
My property was rented out within two weeks after I handed in the key to WeTopia. I get a positive cash flow every month even after I receive the 100k cashback. This is a no-brainer deal for me, and thanks to FAR Capital for making this happen.
My biggest takeaway from FAR Capital is knowing the property market that FAR Cap offers to their clients. The complete ecosystem in FAR Cap is a leverage for me; it makes my journey much easier, and I get to invest with peace of mind.
Do you want to clear off your debt like Saiful? 


Fill in this form and make your first step.