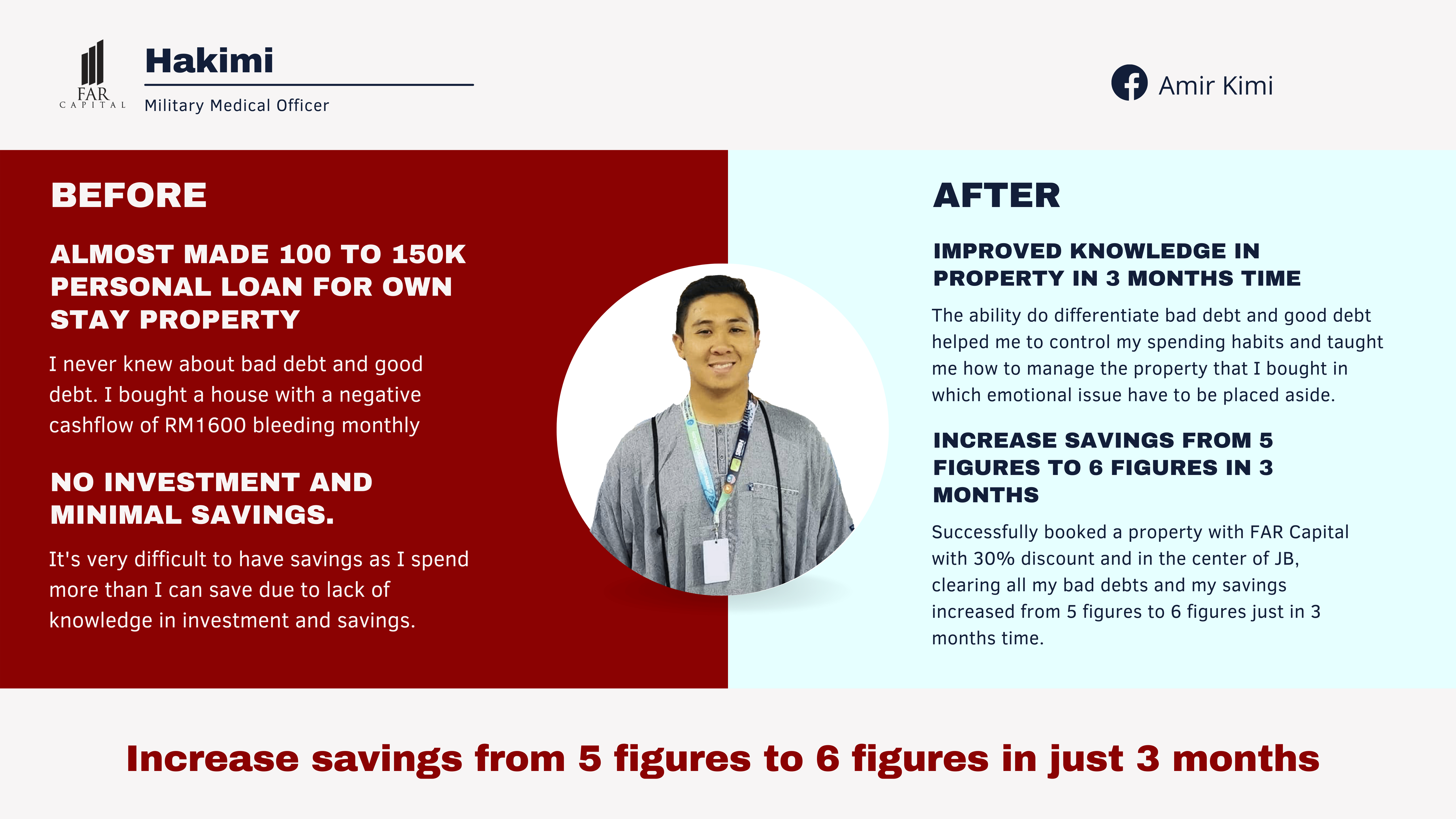 Tahun ni saya dah berusia 30 tahun tapi saya langsung tak ada simpanan yang proper, aset dan investment. I'm very bad at it. Awal tahun ni saya mula berminat nak belajar saham dan saya belajar dengan seorang sifu saham. Alhamdulillah tak terciduk lah. Beliau ada sarankan untuk baca satu buku bertajuk 'Rich Dad Poor Dad' by Robert Kiyosaki dan dalam buku tu beliau ada cakap yang beliau buat duit melalui hartanah. Jadi masa tu saya triggered. Saya kena mula explore juga hartanah untuk capai financial freedom.
Tengah saya semangat nak buat duit ni, tiba – tiba datang masalah.
Masa tu keluarga saya ada minta saya beli rumah. Mereka ada rumah dan sebab saya nak jadi anak yang baik untuk ibu bapa saya, maka saya beli. Bila kita beli rumah, 50% adalah kita tahu rumah tu bagus dan 50% selebihnya adalah kita tahu apa nak buat dengan rumah tu.
So masalah saya adalah kami ni ada emotional attach yang sangat kuat dengan rumah ni. Nak sewakan memang agak bermasalah sedikit.
Dalam masa yang sama isteri saya nak buat rumah untuk ibu bapa dia. Dia sanggup nak buat personal loan untuk buat rumah. Tapi saya sempat tegah dia supaya tak tergesa- gesa. Mesti ada cara lain.
Kami terjumpa satu webinar by Lubuk Hartanah yang bertajuk "Cukup Ke Gaji Doktor?"
Tajuk webinar ni memang buat saya trigger sebab saya rasa gaji saya tak cukup. Saya tanya diri saya kenapa gaji saya tak cukup. Jadi saya hadir webinar tu dan sedar yang kami boleh buat rumah dan dapat duit. Win – win situation.
Kemudian saya decide untuk join webinar Faizul Ridzuan. Saya memang niat nak tambah ilmu hartanah. Saya join sebagai client. Masa saya beli rumah parents saya, ilmu hartanah saya sikit je tak banyak mana pun. Dalam masa 2 bulan, simpanan saya berjaya naik kepada 5 angka, soon to be 6 angka. Saya berjaya book rumah juga yang bagus.
Untuk invest benda besar macam ni, kita memang kena study. Nak study ni kita kena tahu apa yang kita perlu study. Tak boleh study semua benda. Dan untuk tahu apa yang kita nak study, carilah orang yang betul.
Terima kasih FAR Capital!